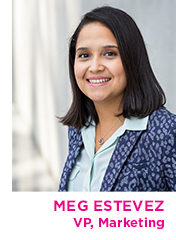 Mother's Day – one of the biggest occasions for our industry – is just a few weeks away. Did you know that, according to the National Retail Federation, Mother's Day spending exceeded $23 billion last year? And, according to the Greeting Card Association, Mother's Day is the third most-popular card-sending occasion, with some 133 million cards purchased annually. It's also the largest card-sending occasion for the Hispanic community, according to Hallmark.
Here are a few more Mother's Day facts to share with your customers: Anna Jarvis is credited as the founder of Mother's Day in the U.S. President Woodrow Wilson signed a bill in 1914 adopting the second Sunday in May as the official date for Mother's Day. Mother's Day is one of only a few holidays that is celebrated internationally.
So, Happy Mother's Day to all the moms; and Happy Selling to all of our exhibitors and attendees!
Sincerely,
Meg Estevez
Medici Fine Stationery & Gifts
Medici Fine Stationery & Gifts, located in Huntington, NY, is actually two shops in one, according to owner Mary Iadanza. "On any given day, our talented designers can be found designing beautiful personalized invitations and stationery, while another designer is busy helping customers find unique cards and gifts for all occasions." During the holidays, she says, "We often refer to ourselves as the elves making the magic happen for our customers to reduce their stress level. We tell them that while we might be small, we are mighty." Here's what else Iadanza has to share about her mighty gift shop:

1. Medici is starting its fourth year in business selling beautiful stationery and gifts on the North Shore of Long Island. Every day we enjoy meeting new clients and seeing old friends that love stationery as much as we do.

2. Our store name is part of a nickname "Medi "given to me a long time ago, with the M in the logo for Mary and the "c" and "i" for my maiden and married last names. It also happens to be a font, so it was a perfect match for a stationery store.

3. When not busy at the shop, half of the employees are top-notch bakers and the other half are top-notch tasters.

4. We love playing with modern lettering and fonts, and all take part in the window design and decorations that are painted on the windows every holiday season.

5. We love working with local entrepreneurs and their new products at the shop. It is the best way for them to hear customer feedback. It's also a great way for us to encourage the next generation of artists.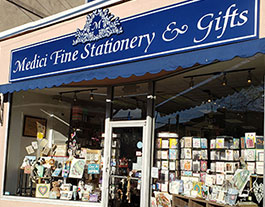 Medici Fine Stationery & Gifts in Huntington, NY.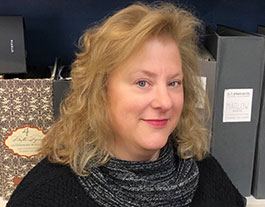 Mary Iadanza, the shop's owner.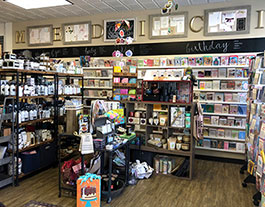 The store carries a wide range of cards and gifts.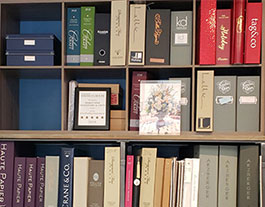 Some of the invitation albums offered.
"What's your top business goal for this year and why?"
"My top goal for this year is to expand more into wholesale and grow those relationships with the shops that currently carry my products. I've done a lot in the past to build my business through retail markets and pop-ups, but the number of weekends/hours away from home can be hard at times. Exhibiting at NSS for the first time in February of 2019 was a chance to see how my business can develop through wholesale and how I can learn from direct relationships with the shops that carry my work."
—Susan Hazel Rich, Owner + Illustrator, Hazelmade, a Kent, OH-based company carrying a collection of stationery and home goods featuring floral-, food- and nature-focused illustrations.

"Bold Florals" tea towel from Hazelmade.
"As a mom of two and an entrepreneur with a growing business, I often struggle to give each the attention they need. My goal for 2019 is to continue making it all work – both at the shop and at home – but more efficiently than we've been operating in the past. As a business, we hope to continue prioritizing the projects that make us the most excited, while still in keeping in line with our brand and ultimately being okay with saying 'no' sometimes."
—Taylor Valliant, Co-Owner + Creative Director, Noteworthy Paper & Press, based in Missoula, MT, which offers letterpress-printed cards, paper goods and gifts, including personalized stationery.

Letterpress-printed card from Noteworthy Paper & Press.
"As a relatively new business, my top goal for this year is to expand my line's reach outside of my local area. This was my first year exhibiting at NSS, and I'm looking forward to building on the connections made at the show. I met a ton of inspiring people, from established businesses, to those just starting up, to the many, many talented designers also exhibiting. I'm already working on some fun collaborations as a result of the show and am thrilled to now have my line in stores around the country as well."
—Amy McCoy, Owner/Designer, tiny farmhouse by Amy McCoy, based in Rehoboth, MA, which produces a line of colorful and whimsical greeting cards, notebooks, art prints, tea towels and aprons.

"You Spring Chicken" card from Tiny Farmhouse.
We All Scream for Ice Cream!
Send summertime sales soaring with ice cream-themed stationery goods that are ideal for the warm-weather season. These sweet products are among those that can be found from NSS 2019 exhibitors.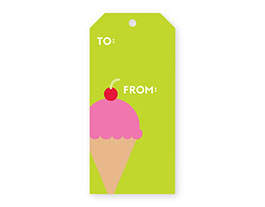 "Ice Cream" gift tag from Donovan Designs.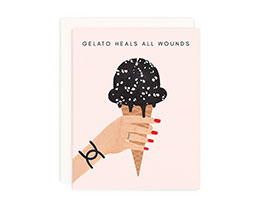 "Gelato Heals All Wounds" card from Girl w/ Knife.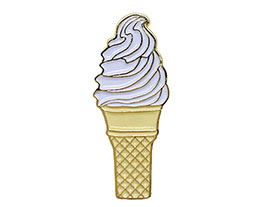 "Soft Serve Ice Cream" enamel pin from Little Goat Paper Co.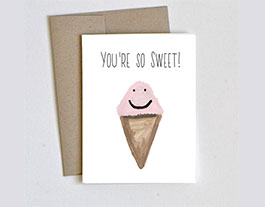 "You're So Sweet" thank you card is part of the Down Syndrome Awareness Pack from Laura's Greetings.
NSS Summer 2019 Edition To Open One Day Earlier
Co-located with NY NOW®, the National Stationery Show Summer® 2019 edition will be opening on Saturday, August 10 – an entire day earlier. The National Stationery Show joins NY NOW Summer for the first time ever and features hundreds of curated designers and producers. The NY NOW Handmade Collection will also go to this new date pattern, giving retailers the extra time they need to explore hundreds of Stationery and Handmade exhibitors. The new dates for the NSS Summer edition will be August 10 through August 13.