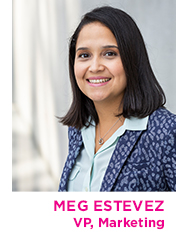 I'm pleased to report that the 2019 National Stationery Show® – co-located for the first time with NY NOW® – was a great success! Traffic was robust, with buyers wearing NSS badges as well as those with NY NOW badges walking the aisles of Halls D and E to find the best, newest and most unique resources for stationery-related products.
In addition to the incredibly popular "Emerging Designers" section that featured up-and-coming stationery companies – which will be expanded going forward, there were numerous first-time exhibitors at the Show, giving buyers the opportunity to find lines they hadn't seen before.
In fact, the 2019 NSS was such a success that we will be having a second 2019 NSS! The summer edition of the National Stationery Show will be co-located with NY NOW, running August 11-14. This time, the NSS will be located in the River Pavilion on Level 4 of the Javits Center – a bright and inviting space perfect for showcasing all of the beautiful stationery products in the Show.
Read on for more facts about the NSS and to see photos of some of the Show's highlights. We look forward to seeing you all again in August!
Sincerely,
Meg Estevez
1. More than 5,000 attendees visited the 2019 NSS – including buyers who registered for the NSS as well as those who registered for NY NOW.

2. The "Emerging Designers" section of the Show featured 52 brand-new stationery companies at the entrance to the NSS. (Read about three of these companies in "Exhibitors Perspectives" below.)

3. The "Calligraphy Station" returned to the NSS for a second year. Located on the Show floor, three outstanding programs were presented daily: "Watercolor Lettering" by Nancy Moy of Nancy Moy Calligraphy, who used watercolor paints; "Exquisite Lettering for Social Stationery" by renowned celebrity calligrapher and fine stationer Bernard Maisner, who wrote out attendees' names with an old-fashioned dip pen and ink, which was theirs to keep; and "Modern Calligraphy" by Danielle Rothman of Rothbyrns Creative, who featured a fun project for attendees to take home.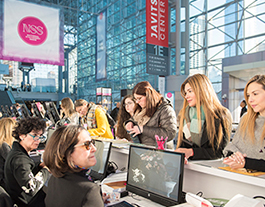 The busy registration area at NSS 2019.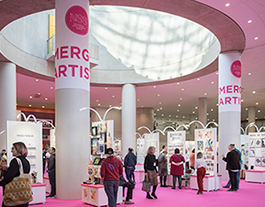 The "Emerging Designers" section of the Show.
4. The NSS's Best New Product display included great products in six categories: All Things Wedding; Cause-Related; All Things Paper; Life/Style; Craft It Up/DIY; and Let's Celebrate. (See Market News below for the winners and finalists.)

5. The NSS held six informative, well-attended seminars that covered a variety of business-related topics: "Creative Retailing" presented by stationery-industry veteran Alyson Kuhn; "Website Content That Sells and Drives Traffic" presented by Arianne Foulks, Aeolidia; "Future Trends: The Connecting Circle of Color" presented by Leatrice Eiseman, Executive Director, Pantone Color Institute, and Executive Director, Eiseman Center for Color Information and Training; "Reps' Tips for Retail Success" moderated by Katie Hunt, Founder, Tradeshow Bootcamp, with panelists Matthew Katzenson of Fine Lines, Carina Murray of Crow & Canary, Mario Moreno of Mario + Associates, and Tosha Pearson of Road Runners; "Top Tricks from Top Bricks" moderated by Lenise Willis, Editor-in-Chief, Gifts and Decorative Accessories, with panelists Marsha Dautsch of Reed Jenss, Becky Brown Dyer of Pat's Hallmark, Audrey Woollen of Urbanic, and David Pillard of Tender Land Home; and "4 Under 40" moderated by Sarah Schwartz, Editor-in-Chief, Stationery Trends, and Trends Editor, Gift Shop Magazine, with panelists Sadie Piller of Paper Source, Courtney Cochran of Hester & Cook Design Group, Lisa Roberts of Rock Paper Scissors, and Taylor Hamilton of Tay Ham. Special thanks go to all of the NSS's presenters and panelists!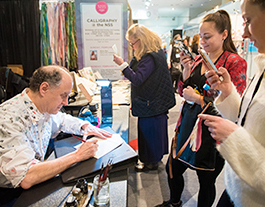 Master calligrapher Bernard Maisner at the Calligraphy Station.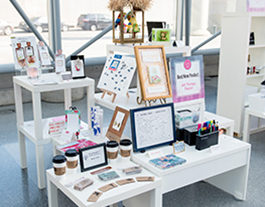 A section of the NSS's Best New Product display.

Color expert Leatrice Eiseman speaks to a sold-out crowd.
What was the best thing about exhibiting in the Emerging Designers section of the National Stationery Show?
"Making our debut at the National Stationery Show was nothing short of exhilarating! There were so many incredible benefits we had access to as Emerging Designers, but overall I would say the best part was the community we were able to form in just a couple of days. The way the space was set up, all of us up-and-comers came together and were really able to bond over this shared experience at the Javits. We also had access to traffic walking through the lobby, and there were several buyers who specifically sought out fresh offerings from new faces."
— Mabel Nevel, Founder, Âme Courrier, a Bloomfield, NJ-based greeting card company founded on the belief that written words are an overflow of the soul.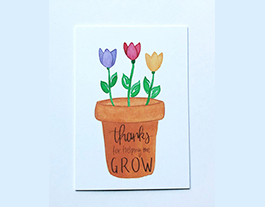 "Helping Me Grow" card from Âme Courrier.
"Definitely all of the wonderful people that I met who were also exhibiting in the Emerging Designers section. It was comforting to meet other stationery owners who were in a similar stage of their business."

— Lauren Rolph, Owner, Helen Edna, a letterpress stationery studio based in Dana Point, CA, whose joyful card designs are finely hand-drawn with vibrant colors.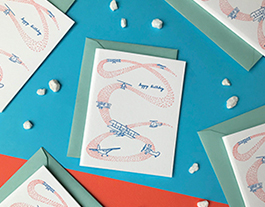 "Birthday Planes" letterpressed card from Helen Edna.
"The best thing about exhibiting in the Emerging Designers section was that I learned this is the risk I needed to take in order to take my company from a hobby into a career. I met so many talented designers, got to speak with so many young girl bosses out here curating their stores and, the most exciting part – Spaghetti & Meatballs will be in 22 new shops starting March 1!"
— Marie Castiglione, Owner/Designer, Spaghetti & Meatballs, a line of "home-cooked" greeting cards that are written, designed and printed by the owner in Queens, NY.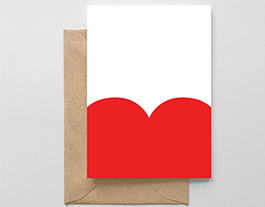 "Butt Heart" card from Spaghetti & Meatballs.
Walking through the aisles of this year's NSS, it was apparent that tote bags were a popular line extension for many paper companies. Not surprisingly, since so many of the great designs that appear on greeting cards and stationery products also work well printed on the side of a tote bag. With many grocery stores nationwide doing away with plastic bags and/or charging for a shopping bag, cotton totes are not only a popular eco-friendly choice, but also a penny-wise one.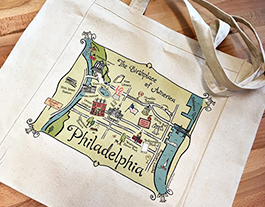 "Philadelphia City Tote" from Gooseberry Designs.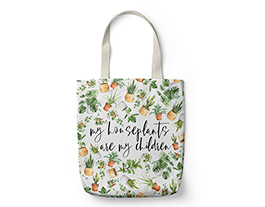 "Houseplants Are My Children" tote from Lizzy Powers Design.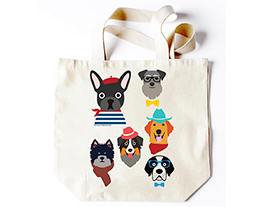 "Dog Characters" tote bag from Potluck Press.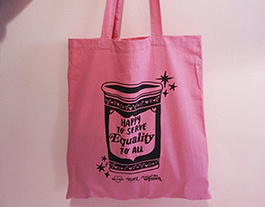 "Happy To Serve Equality To All" tote from Ash + Chess.
Winners of NSS's Best New Product Display Announced
Always a highlight of the Show, the 2019 National Stationery Show Best New Products display showcased an array of great products available from NSS exhibitors in six categories. Merrilulu received the Best of Show award for its Sloth Party garland, as well as the award in the Let's Celebrate category. The other 2019 category winners of the NSS Best New Product Awards were: All Things Paper: Colorbox Design & Letterpress for its U.S.A. Travel Map; Life/Style: WarmThoughts for its WarmThoughts Sip & Search Pack; Craft It Up/DIY: Global Solutions for its Melting Pot and Wax Melting Spoon; Cause-Related: The Crowned Rabbit for its Adopt, Don't Shop! Charity Pin; and All Things Wedding: TF Publishing for its OMG! The Non-Bridezilla Wedding Planner.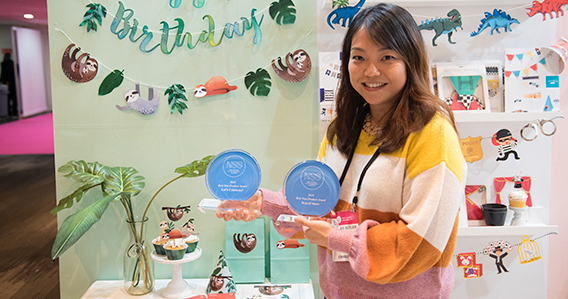 Ranhee Butler of Merrilulu with her NSS 2019 Best New Product awards.
Third Annual NSS "Design Our Valentines" Contest Winners Revealed
The NSS invited 2019 exhibitors to participate in the third annual "Design Our Valentines" contest, which featured three categories: Traditional, Contemporary, or We Love the NSS. For the Traditional Genre, the winner was JooJoo Paper, with finalists Tallulah Madwell and Mailennial. In the Contemporary Genre, the winner was Kweer Cards, with finalists ilootpaperie and Cabbage Cards. For We Love the NSS, the winner was Grey Street Paper, with finalists Dry Wit Goods and Just My Type Greetings. The designs of the winners and finalists can be viewed on the NSS website here.

JooJoo Paper, Kweer Cards, Grey Street Paper