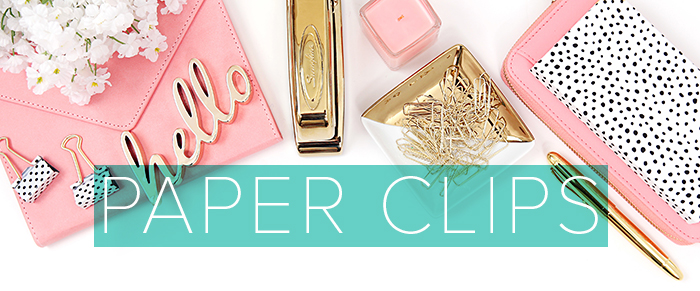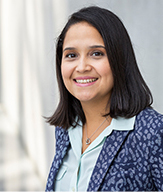 The New York City location of the National Stationery Show has always been a big draw for both attendees and exhibitors – especially those beyond the U.S. The upcoming Summer edition of the NSS features exhibitors from Canada, Mexico, the U.K., Australia, Columbia, France, India, Japan, Taiwan, China, South Korea and Vietnam. Walking the aisles of the NSS is like traveling the world to find new products – only much easier and more affordable! In the "Exhibitor Perspectives" column below, several of these foreign exhibitors share why they've chosen the NSS to showcase their lines this summer.

NSS attendees come from all over the U.S. and world as well to source great stationery-related merchandise for their stores. After show hours, many also take advantage of all that New York has to offer – from great restaurants and nightclubs to Central Park and Broadway shows. For more information on what to do in New York – including a restaurant guide, Broadway discounts and more, visit the NSS site here. August is a terrific time to be in NYC and at the NSS ... we look forward to seeing you there!

Sincerely,
Meg Estevez
Silverton Pharmacy has been serving Toms River, NJ, and its surrounding communities for more than 50 years and is still locally owned and operated. In addition to being known for its fast prescription service, the store also carries a wide variety of greeting cards and giftware. Here, store manager and sole buyer Isabel Danielak shares details about this unique retail destination for stationery and gifts.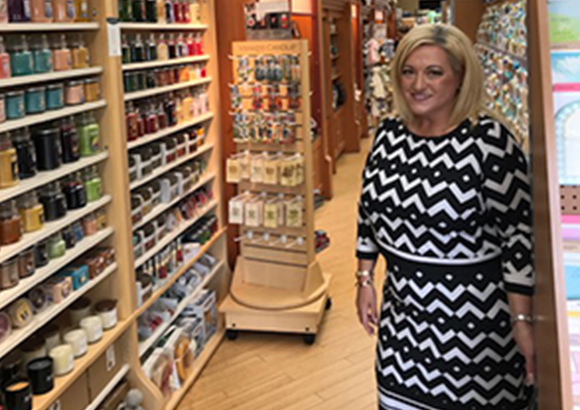 Store Manager Isabel Danielak in an aisle of cards and gifts.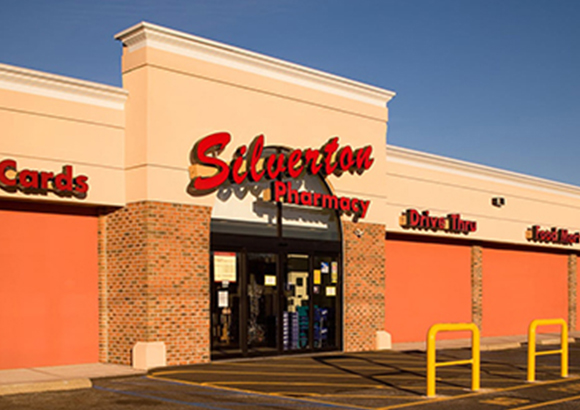 Silverton Pharmarcy in Toms River, NJ.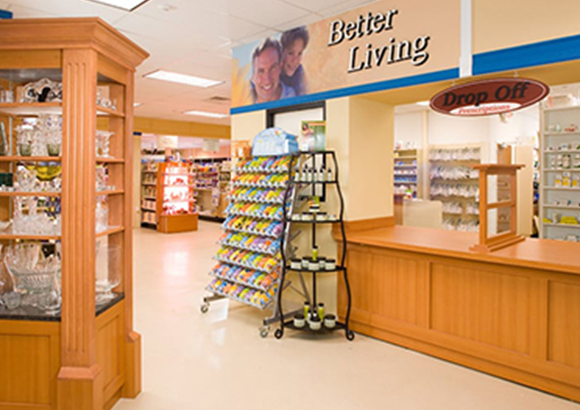 Gift displays surround the pharmacy counter.
Service is our number-one priority; in fact, our staff knows most of our customers by name. We still provide the same good, old-fashioned, personalized service that has helped us become a cornerstone business in the community.
We are one of only a handful of pharmacies that has a full-service U.S. Post Office located inside of the store. Customers can buy a card and mail it all in one location!
We are constantly bringing in new and innovative inventory to attract our customers. We currently have 140 feet of cards, including a 12-ft. wall of thank you cards, gift enclosures and invitations.
Our average employee has been with us for more than 15 years.
Silverton Pharmacy is the only full-service card, gift and pharmacy resource in the area.
Exhibitor Perspectives
Why do you come to the U.S. to exhibit your line at the National Stationery Show?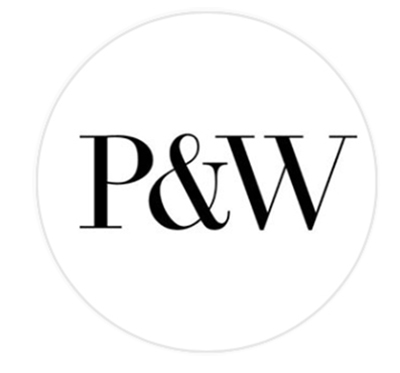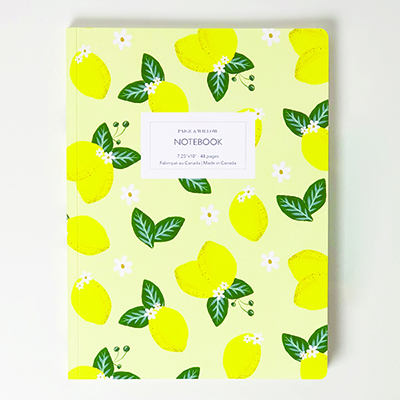 "Lemons" notebook from Paige & Willow.
"I chose to exhibit at the National Stationery Show because I will have the opportunity to have my products in front of buyers from all over the world, and there is no better place to do that than at the NSS. I visited the show last year for the first time and I was amazed! I saw up close the potential that exhibiting at the show would have for my business, and I can't wait to see the outcome. My goal is to connect with the community, to build relationships with buyers and to have my products available in stores everywhere."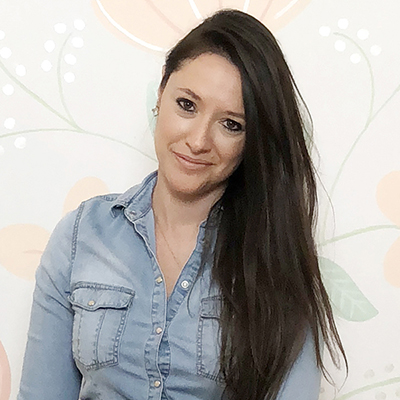 Ketlin Martins, Founder, Paige & Willow, a Canadian stationery company based in Montreal, QC, that provides beautiful, original paper products featuring hand-painted illustrations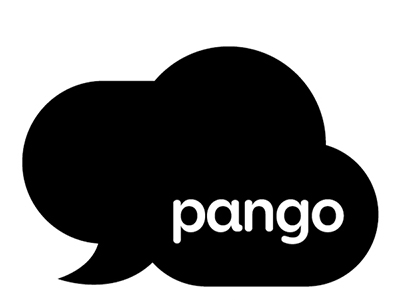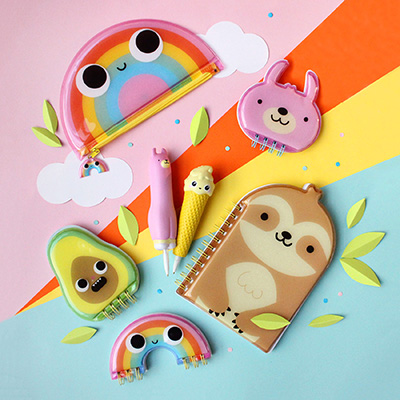 Colorful notebooks, pencil case and squishy pens from Pango Productions.
"Building on our mission of #wemakehappy, Pango's aim is to bring our most loved characters to life across different media in a fun-loving and unique way. With more than 10 years' experience in the greetings business, Pango recently introduced our very first stationery collection, which has gone down incredibly well in the U.K. We believe the National Stationery Show will be a great platform to launch our products, both stationery and greetings, into the U.S. market, and we hope to meet plenty of retailers and distributors once there. We are excited to see what the US market has to offer!"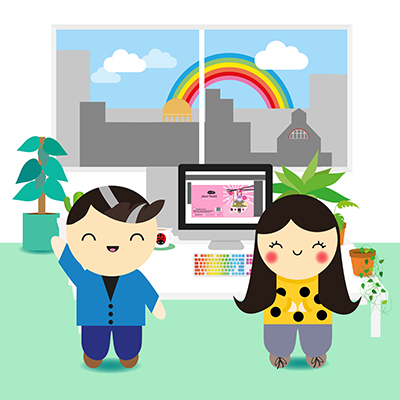 Cindy Pang and David Wigley, Founders, Pango Productions, an independent publishing studio based in East London, U.K., that creates noteworthy greeting cards and stationery items.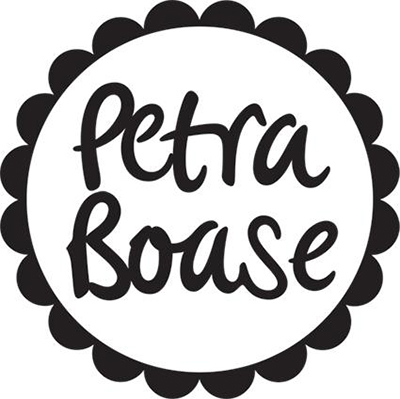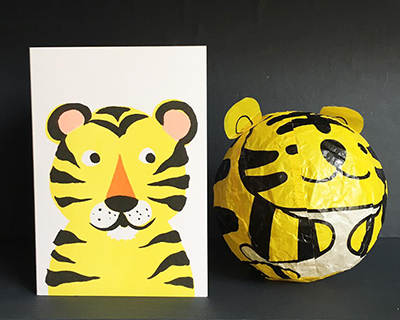 "Tiger" balloon card from Petra Boase contains a flat paper balloon.
"Who wouldn't say yes to a business trip to New York?! When we first exhibited at the NSS in May 2018, we didn't know how our line would be received, but we felt it was important to spread our wings and find out. Luckily for us, the reaction was really positive, so we came back in January for the new co-location with NY NOW. We love the positivity and friendliness of the customers and how everyone has got time for a chat and to offer constructive feedback. Our brand is now 20 years old, but we are still bursting and buzzing with ideas and can't wait to show off what we have been up to at the NSS August edition and to meet existing and new customers."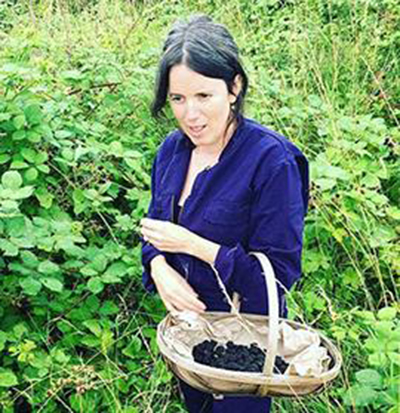 Petra Boase, Owner, Petra Boase Ltd., a small, eclectic greeting card, stationery and gift brand based in Norwich, U.K., inspired by quirky ephemera, color and vintage textiles.
Birds are a perennially popular theme on cards and stationery products. From flamingos to parrots, swans to swallows, and pretty much every flying creature in between, these feathered friends are helping merchandise to fly out the door!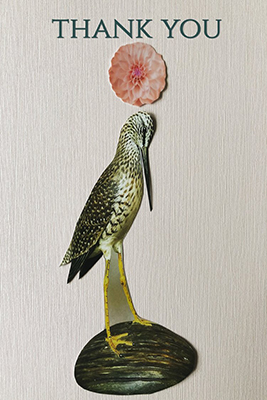 "Sandpiper" set of six blank cards from 100 Mile Paper.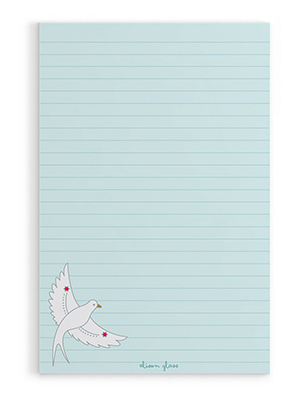 "Flying Bird" 50-page notepad from Alison Glass.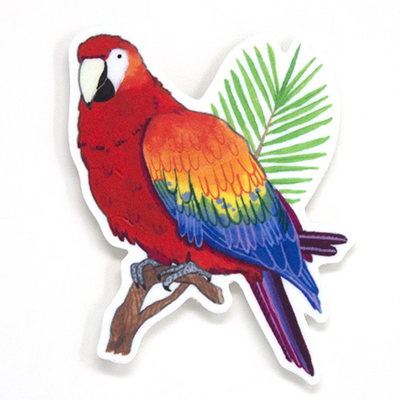 "Parrot" waterproof, vinyl sticker from Cactus Club.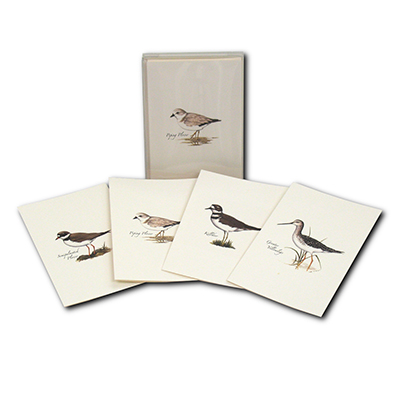 "Shorebird" box of 8 assorted notecards from Earth Sky + Water.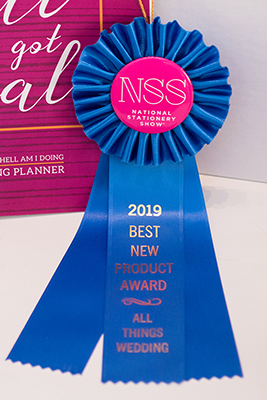 Best New Product Awards Still Open
Deadline: Friday, July 19
The NSS is now accepting submissions from Summer Edition NSS exhibitors for the Best New Product Display. There are no fees to enter. Entries will be showcased and winners will be selected in the categories of All Things Wedding, Cause Related, All Things Paper, Lifestyle, Craft It Up/DIY, Let's Celebrate and the Best of Show. Category winners will be included in the Show Daily as well as on the NSS's website, Twitter, Facebook and Instagram pages. Award winners will also be posted in the press room during the Show. The deadline to submit is Friday, July 19. For full details and to enter products, click here.